HOBO MX BLE Gateway - Aggregator
USD$411.83 MXGTW1
View and analyze data in HOBOlink from any HOBO MX BLE data logger connected to the MX Gateway
Near real-time measurements transmitted to your HOBOlink dashboard
Alarm notifications (out-of-range sensor, low battery, stopped logger, missing logger)
Unlimited cloud storage via HOBOlink
100-foot line-of-site communication
Wi-Fi & Ethernet connectivity
Mounting Kit & AC adapter Included
Requires the purchase of the SP-620 one-year data plan on the same PO as the Gateway (on Accessories tab)
Descripción
The MX Gateway automatically transmits HOBO MX Bluetooth Low Energy (BLE) logger data to Onset's cloud-based HOBOlink software. The MX Gateway is ideal for obtaining remote access to data from multiple HOBO MX data loggers monitoring environmental conditions in office buildings, residential environments, warehouses, indoor growing facilities, server rooms, museums, and more. The MX Gateway supports all HOBO MX data loggers except the MX100 through the HOBOmobile app on an iOS mobile device. Android compatibility is coming soon.


This device can be powered via the included AC adapter or through a Power Over Ethernet (POE) connection. It can simultaneously connect with up to 100 HOBO MX data loggers that are within 100 feet line of sight.
You can download the HOBOconnect app here: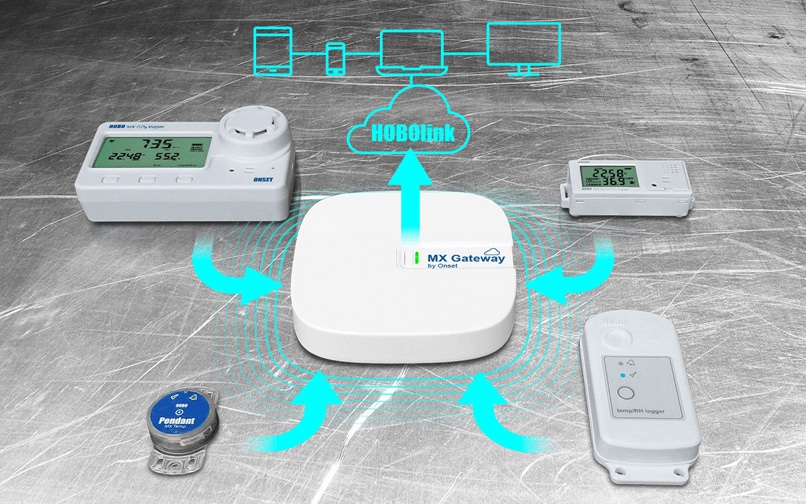 † Todos los productos en este sitio se muestran en la moneda de EE.UU.